Ingredients:
600g swede and carrots, peeled and cut into small cubes

Olive oil

1 large red onion, peeled and finely diced

2 garlic cloves, peeled and finely diced

1 tbsp tomato puree

1 can tinned tomatoes

1 tsp chilli flakes

2 tsp coriander seeds

150g mushrooms

1 tin black beans, drained and rinsed OR 150g dried black beans, soaked overnight and cooked for x mins

1 can black eyed beans, drained and rinsed OR 150g dried black eyed beans, soaked overnight and cooked for x mins

Handful fresh coriander, roughly chopped

Juice of 1 lemon

Salt and pepper to taste
Method:
Preheat the oven to 180c

Place the swede and carrot cubes in a baking tray, drizzle with olive oil and season well, cover with baking paper and roast for about 30-40 mins until really soft. This makes them sweet and tasty but you could steam the swede and carrot if you prefer.

Meanwhile, fry the onions, in a drizzle of olive oil over a medium heat for 5 minutes, until the onion softens.

Add the garlic, coriander seeds, ground coriander, chilli flakes and tomato puree, sauté for 2-3 minutes, before adding the mushrooms and sautéing for further 5 mins

Add beans, add the tinned tomatoes, lemon juice and season well. Simmer for 10 – 15 mins, add chopped coriander.

Once the swede & carrots are soft, mash them and season well, mix in the chopped parsley.

Spoon the bean mix into an oven-proof dish, top with the swede & carrot mash. Place in the oven and cook about 20-25 minutes, until top starts to crisp

Serve with greens. You could also pour vegan gravy over.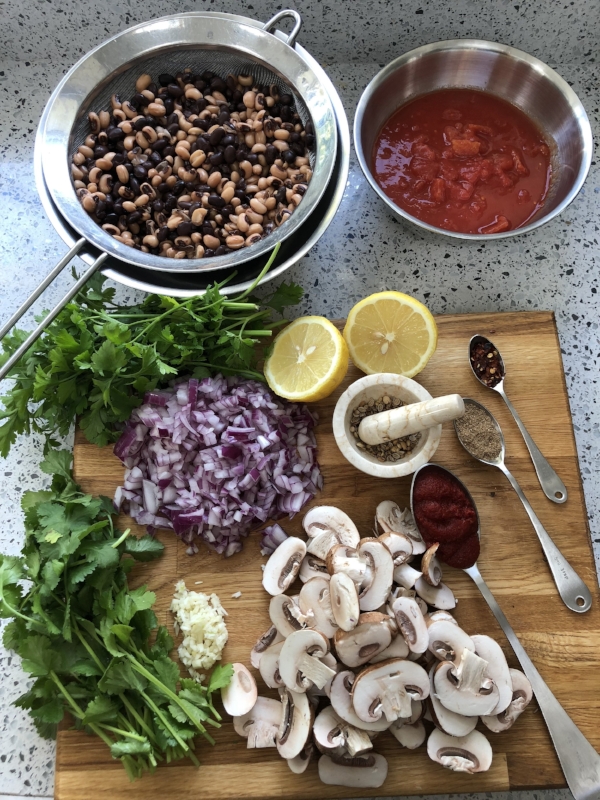 Other ideas:
Also delicious with sweet potato mash instead of swede & carrot.
You can use any combination of beans or lentils in this dish too.
Cooking with dried pulses
Tinned beans are quick and convenient but you can easily use dried, just remember to soak them overnight and drain, then cover with water cook for 1 hour at a low simmer, test how soft they are by mashing one with a fork, if they are soft / easy to mash then they are done! If still hard carry on cooking, checking every 20 mins or so, 2 hours should be enough but some beans take up to 4 hours to cook depending on size and freshness. Add salt when they are done, if you add it at the beginning the beans can go tough.
Lentils don't need soaking overnight so are even easier!